*** OXEN IS COMING ***

Progress Report
UPDATE: (07/13/08) With BLOOD AND LEATHER now finished and heading to the printers for DexCon and heading to DriveThruRPG, I'm going to resume working on O.X.E.N. along side the expansion for BLOOD AND LEATHER. I realize news has been lacking lately, I intend to change this.
UPDATE: (12/24/07) O.X.E.N. is heading for the workbench this week. Stay tuned for more updates.
UPDATE: (11/02/07) Well, thought that we were nearing the end. I was mistaken. O.X.E.N. is being taken back several steps, I'm working on streamlining it and making it more fluid and easier to play. Sorry to say, but I think it won't be ready until some time next year. So look for O.X.E.N. in 2008.
UPDATE: (08/20/07) New land tiles are completed. Financials have been rescaled. Finished laying out the new production tiles, just need to build them now. Rules are still being reworked. Hopefully we'll be ready for new rounds of playtesting by Wicked Labyrinth. Also, O.X.E.N. may have investors.
UPDATE: (07/30/07) As previously posted, O.X.E.N. is being retooled. So far the new land cards have been completed, and the production tiles are currently being laid out. I suspect that I'll have a new working copy by mid-to-late August. Thank you to everyone at DexCon who offered input on how to make the game better. I really appreciate it.
UPDATE: (07/20/07) O.X.E.N. has officially debuted! So what does that mean? It means the public has gotten its first taste. It turns out we need a bit more retooling before we'll be 100% ready, but the reactions and reviews are in, we're definitely close. Thank you to all who've helped us out!
UPDATE: (07/18/07) O.X.E.N. is done! It is completely finished, and is now heading to DexCon (www.dexposure.com) to be revealed to the world! All are welcome to come see and play my game! The game will be available for play even outside the scheduled events. Come! Enjoy!
UPDATE: (07/08/07) O.X.E.N. graphics are finished! I mean they are completely done! I just need to hit the printers and get them done and laminated! See you all at DexCon (July 18-22nd)
UPDATE: (07/01/07) O.X.E.N. cards are all finished! Those just need to get to the printers! The price-quantity chart is still under construction, but I think it's almost done! Last thing for me to do is to do the production tiles and find a place to get them laminated! O.X.E.N. WILL BE READY FOR DEXCON!!
UPDATE: (05/21/07) O.X.E.N. may have a dedicated artist! Artist screening is still on going. More details to come as they become available.
UPDATE: (04/16/07) Rules have begun going through clarification and condensing.
UPDATE: (04/12/07) KNIGHTHAWK FREELANCE PRODUCTIONS IS PROUD TO ANNOUNCE THAT O.X.E.N. HAS PASSED IT'S FIRST, FULL, 3-PERSON ALPHA! TOMORROW IT ENTERS ALPHA OF 4-PERSON PLAY! AS IT SEEMS RIGHT NOW, O.X.E.N. HAS COME INTO THE HOME STRETCH! MORE NEWS TO COME AS THE GAME GETS CLOSER TO COMPLETION!! CHEERS!!
UPDATE: (04/12/07)OXEN has gone through another alpha. Making progress.
UPDATE: (04/08/07) OXEN has finished its first Alpha. There are no drastic problems. It runs, and actually runs well. It needs to be tweeked to make it run smoother, and a few rules and cards need to be rewritten for better clarity. Over all, the edits will require about 1 week of solid work.
UPDATE: (04/07/07) OXEN has entered Alpha testing. Scaling seems to be coming along, and some rule-holes have begun to come to light. So far new cards are obviously needed, and again scaling issues.
UPDATE: (04/06/07) OXEN was going to be Alpha'd today, but unfortunately schedules didn't allow for it. We here are hoping to put it through its initial paces either 4/7 or 4/8. A progress report will be made when this occurs. Keep reading.
UPDATE: (02/14/07) OXEN IS CURRENTLY ON HOLD DUE TO FINANCIAL CONCERNS! AS SOON AS CASH FLOW IS RECTIFIED, PRODUCTION WILL RESUME!
UPDATE: (01/19/07) OXEN game pieces have arrived! I'm so stoked! Here's a picture: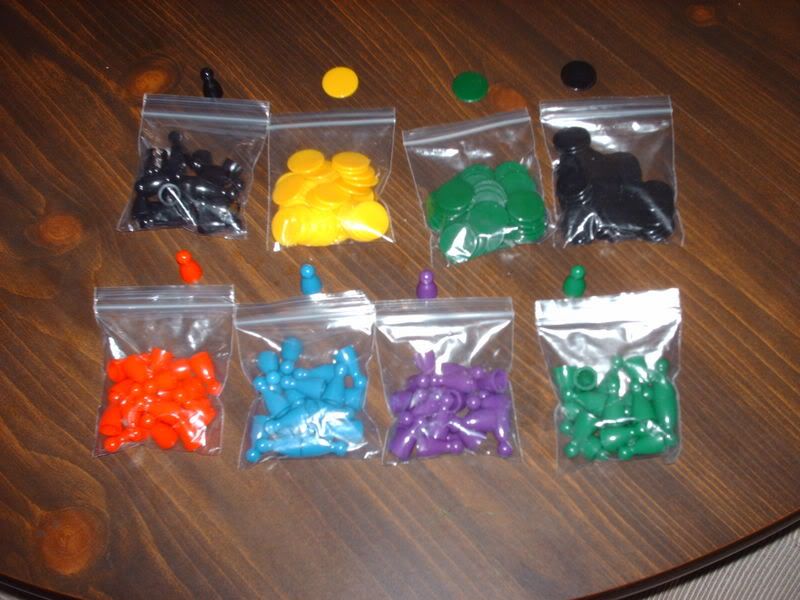 UPDATE: (01/11/07) OXEN game pieces have been ordered! Cost me 10.50£ which is about 21$. Hopefully they'll arrive soon! It's all coming together finally!
UPDATE: (01/09/07) Cards are finished, aside from the art which Casey is working on.
UPDATE: (12/27/06) I think I may have temporarily solved my game-money problem. I am going to temporarily scavenge the play money from Solarquest. Also, I've done the edit on the new production bar:

Casey drew this for me, Just a sample of the art to come:

UPDATE: (12/18/06) Card Templates done!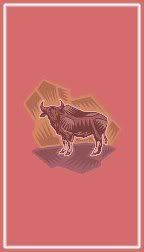 UPDATE: (12/16/06) Product-Production Bar base is complete! SCORE! Look at it here:


UPDATE: (11/06) Land tiles are completed and printed!
Rules Outline